This event is now over.
Please visit News and Events to catch up with the latest from Sitecore.
Go to News and Events
Or, visit our Knowledge Center for our blog, articles, and more helpful resources.
Go to Knowledge Center
IN-PERSON EVENT
Say Hello to the Composable Future
Learn how to deliver unlimited exceptional customer experiences at this strictly limited event.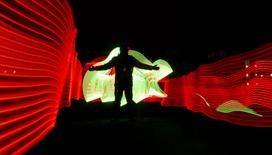 Meet and beat your customer expectations
For your customers, experience is everything. They expect their digital interactions to be fast, frictionless and relevant. They expect personalised, data-driven experiences, whilst at the same time ensuring their information is protected.
You need to deliver on your brand promise in the digital world and to do this you need technology that is unique as you and your customers are.
Say Hello to the Composable Future.
Gartner predicts that organisations who adopt a composable experience platform approach can deliver new features 80% faster.
Composable means choice, flexibility, and un-paralled time to value.
Composable solutions put you in the drivers seat to harness the power of content, data, personalisation, real-time decisioning and next-best actions to create new growth by elevating the customer experience.
Join us at this in-person event where we will discuss:
How to meet customers with exceptional digital experiences, wherever they are
A technical deep dive into Sitecore's modern, cloud-powered, future-proofed solutions
How activating on your customer data and intent can accelerate growth and revenue
How organisations like yours are delivering on the experience opportunity
The balance of personalisation, privacy, protection and transparency
Event details
10:15am - 10:45am
AEDT
Registration and Networking
The future is composable: delivering standout digital experiences across every customer journey
Chief Product Officer Dave O'Flanagan dives deep into the latest product innovations at Sitecore and sets out our vision for the next 12 months.
— Dave O'Flanagan, Chief Product Officer, Sitecore
"Ask Dave"
Q&A session with Dave O'Flanagan
Solution highlights from Symposium
Join Dave and Sitecore solution experts as they deep dive into the details of the latest solution announcements, highlights from Symposium and have the opportunity to ask questions.
— Nikolaj Hendel, Vice President – Solution Engineering, APJ, Sitecore (Sydney)
— Mick Wingert, Director - Solution Engineering, ANZ, Sitecore (Melbourne)
— Rob Earlam, Senior Developer Advocate, Sitecore
"Winning the Customer Experience Race" - brought to you by Deloitte Digital
The experience opportunity
Join highly respected marketing technology expert and self-confessed customer data platform (CDP) fan Miguel Leone as he looks at the drivers for experience engagement, the opportunities brands have to elevate the experience, how the power of building end-to-end customer engagement systems that integrate data, decision and delivery platforms.
— Miguel Leone, Partner, Deloitte Digital
Your path to unlocking 1:1 marketing for growth
At the heart of 1:1 personalised marketing is a customer data platform (CDP) and personalisation engine. As the founder of the technology that drives Sitecore's engagement platforms - CDP and Personalize - Dave will be discussing how 1:1 marketing drives the modern customer experience and business revenue growth.
— Dave O'Flanagan, Chief Product Officer, Sitecore
Conversations with customer changemakers
Hear direct from Sitecore and Deloitte Digital customers on their customer experience journey.
Sydney – Scenic Tours
Melbourne – Insignia Financial
— Zoé Freeman, Sitecore Lead Alliance Director, Deloitte Digital
Privacy and personalisation in the shifting digital marketing landscape
At a time where data privacy and transparency is at the forefront of consumers minds, hear from Deloitte experts on how to deliver a digital ecosystem that is built around a core of privacy, trust and consent.
— Deloitte Cyber Risk Advisory team

Ask the Experts…all of them!
A question and answer session with all of our expert presenters.

When
Wednesday, November 16, 2022 11:15 PM to Wednesday, November 16, 2022 4:00 AM AEDT
Location